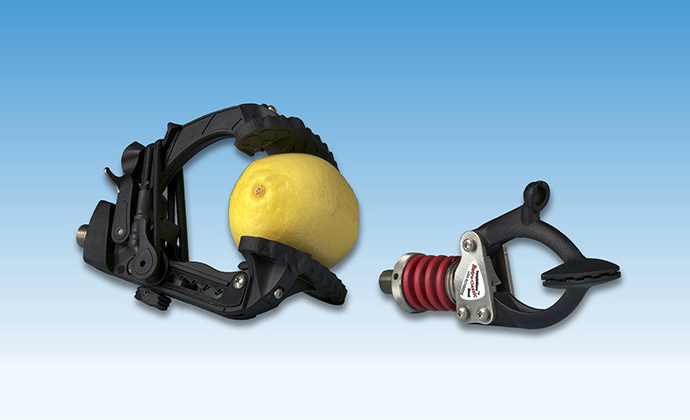 Toughware Prosthetics
Vari-Pinch Prehensor™ (V2P™)
| | | |
| --- | --- | --- |
| Product # | Description | L-Code |
| V2P-307-L-BK | V2P, Grivory, Left, Black | L6706 |
| V2P-307-R-BK | V2P, Grivory, Right, Black | L6706 |
| V2P-307-L-BN | V2P, Grivory, Left, Brown | L6706 |
| V2P-307-R-BN | V2P, Grivory Right, Brown | L6706 |
| V2P-207-L-BK | V2P, Stainless Steel, Left, Black | L6721 |
ToughWare's Vari-Pinch Prehensor™, or V2P™, is a new state-of-the-art body-powered (BP) voluntary opening (VO) terminal device (TD) that gives users unparalleled grasp stability and versatility. Adjustable pinch force puts the user in the driver's seat, matching their grip to the task at hand and conserving physical exertion whenever possible. Lower cable tension improves dexterity, helps prevent sound-side overuse injuries, and reduces wear-and-tear on both the body and equipment. These features are particularly beneficial for bilateral amputees and those who are weakened or otherwise compromised.
Retro Classic Hook
| | | |
| --- | --- | --- |
| Product # | Description | L-Code |
| RCH-200-L-SV | Retro Classic Hook, Left, Silver, Strong Spring | L6721 |
| RCH-100-L-BK | Retro Classic Hook, Left, Black, Standard Spring | L6721 |
ToughWare Prosthetics developed its new line of Retro Classic Hooks to replace an older design popular among farmers and ranchers in the mid-west. We kept the best functional aspects, but added new innovations of our own to create a wholly new design for the 21st Century. Units are shipped as LEFT or RIGHT from the factory and cannot be reconfigured in the field.
Accessories
| | | |
| --- | --- | --- |
| Product # | Description | L-Code |
| QD-KIT-SS | Quick Disconnect Termination & Harness Hanger Kit | N/A |
| QD-KIT-SS-HD | Quick Disconnect Termination & Harness Hanger Kit – Heavy Duty | N/A |
| V2P-BOOT-BK | V2P Replacement Tip Boot Set | N/A |
| V2P-BNG-BK | V2P Replacement Standard Bungee Ring | N/A |
| ITAL | International Transradial Limb, Sm., Med., Lg., Black or Brown | N/A |