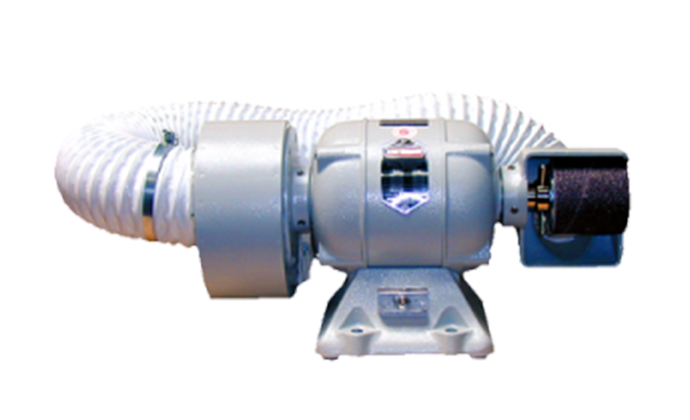 Sani-Grinder
The Sani-Grinder takes the "grind" out of grinding and polishing orthotics. It is ideal for grinding orthotics made of leather, foam, plastic or cork, as well as for finish polishing of plastic materials. It can be easily positioned on a counter, bench, or table-top to fit almost anywhere in your laboratory.
Features:
Full 1/4Hp, 1725/3450 RPM, 2 speed Red Wing Motor with 6" shaft height
Single ½" tapered shaft on right side
Chuck Remover permits easy changing of sanding drums
Replaceable dust bag for easy, convenient cleaning
Dust collector assembly and bag on left side
Runs on standard 115 volts/60HZ electrical power
Suction Hood that rotates to suit your grinding and polishing needs
Tapered shaft
Shipping weight is 53 lbs.
Comes complete - ready to plug in
3" x 4" drum with 60 grit medium sanding sleeve
220 volt models available upon request
Processing Information:
ALWAYS START GRINDER IN LOW SPEED, THEN SWITCH TO HIGH SPEED
Pricing Information:
The separate prices for each item are listed above. Replacement parts not all in stock and may have to be special ordered.
| | |
| --- | --- |
| Product # | Description |
| 704 | Sani-Grinder, Complete, 4″ |
| 700-5C | Sanding Sleeves, Coarse (36) Grit, 3″ x 3″ |
| 700-5M | Sanding Sleeves, Medium (60) Grit, 3″ x 3″ |
| 700-5F | Sanding Sleeves, Fine (120) Grit, 3″ x 3″ |
| 704-5C | Sanding Sleeves, Coarse (36) Grit, 3″ x 4″ |
| 704-5M | Sanding Sleeves, Medium (60) Grit, 3″ x 4″ |
| 704-5F | Sanding Sleeves, Fine (120) Grit, 3″ x 4″ |